So you're ready to get started on your tendering journey, read here on how to subscribe to Australian Tenders
Whether you're new to tendering or a seasoned expert, you may have a few questions about the subscription process. Follow our step-by-step guide below on how to get your account set up so you can start responding to opportunities as soon as possible.
Choose your plan
We've broken down the difference between these below; note that each option is payable quarterly or annually with the opportunity to cancel anytime, and their only differences are the number of users you can have under a single payment plan.
Start Plan $50 (single user): this plan only allows one user; however, it gives you unlimited access to all categories, regions and unlimited tender alerts. This plan is suited to sole traders or any business where only one person/email address needs to receive alerts.
Grow Plan $60 (1-5 users): up to five users can be added to this plan, all of which have unique login details and the ability to set up their tender alerts. This plan is suitable for multiple people who want alert emails, and some may wish to receive tenders from a different state or industry as the account holder.
Expand Plan $80 (1-10 users): up to ten users can be added to this plan with the same functionality as the Grow Plan. This plan is suitable for large businesses where more than five people want alert emails and may vary in their location and department/industry from the account holder.

Click the SIGN-UP button when you're ready to proceed

Step 1: Your details
Enter the contact information of yourself or whoever will be utilising the account
Click on SIGN UP
NB by clicking on SIGN UP, you are agreeing to the Terms of use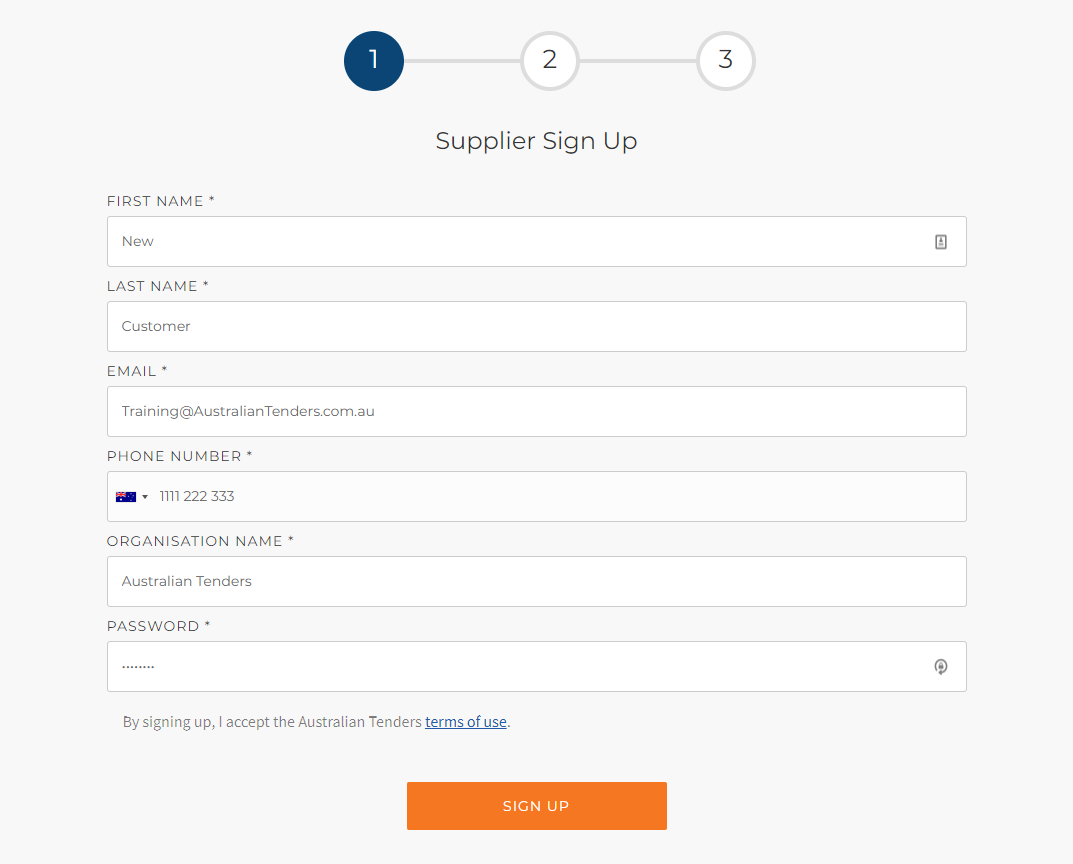 Alternatively, you can use your Google account to sign up
Click on Continue with Google
From the pop-up, choose the Google account that you would like to use
Step 2: Payment Details
Choose how you'd like to pay: monthly or annually
Enter credit card details (if paying by credit card)
Click on PAY NOW or (PAY BY EFT if you selected the annual payment option and prefer to pay by EFT)
NB If you choose the annual payment option, you can either pay by credit card or EFT.
Click on CONTINUE (alternatively, click on DOWNLOAD INVOICE if you want the invoice right now)
NB Invoices and receipts will be emailed to the registered email address and can also be accessed at any time from your billing history under the account menu.

Step 3: Your Profile
Enter your profile details
Click on SAVE & CONTINUE

Next steps
NB After setting up your alert, you can preview existing tenders that match your requirements.
After you create your account, you will be assigned an Account Manager within 24 hours. They will contact you by phone or email to answer any questions or provide assistance. If you didn't get time to set up your tender alert or weren't quite sure how to do it - don't stress - your account manager is on it.
Now you're all set and ready to start your tendering journey!
Need a little help?
Just email us at support@australiantenders.com.au or call our friendly Australian support team on 1800 934 117.