Grow your team by upgrading your subscription and adding more users.
Has your business grown? Are your colleagues impressed with your up-to-date tender knowledge and want a slice of what you're getting? You may wish to delegate notifications: John wants construction tenders in QLD, and you want engineering tenders in NSW.
Multiple users can be helpful for several reasons, and now we've made it easy to upgrade your subscription. Follow the instructions below to upgrade in minutes:
Step 1: Navigate to your subscription page
Select from the top right corner of the home page
Click on ACCOUNT (top right corner of the screen)
Select SUBSCRIPTION from the drop-down menu
Step 2: Select New Plan
Next to the description of your current plan, select Update Plan

Switch to monthly, quarterly or annual payment options (your current selection will have a black outline around it) and/or select the User Plan (Start, Grow or Expand) you want to change to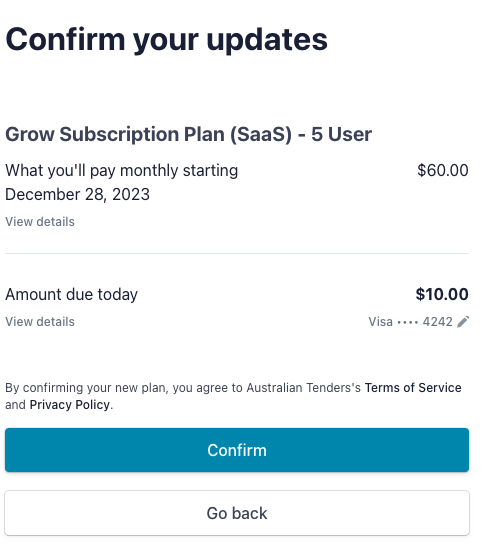 Step 3: Process payment
The system will calculate what is owed for your upgrade based on the number of days left in your current cycle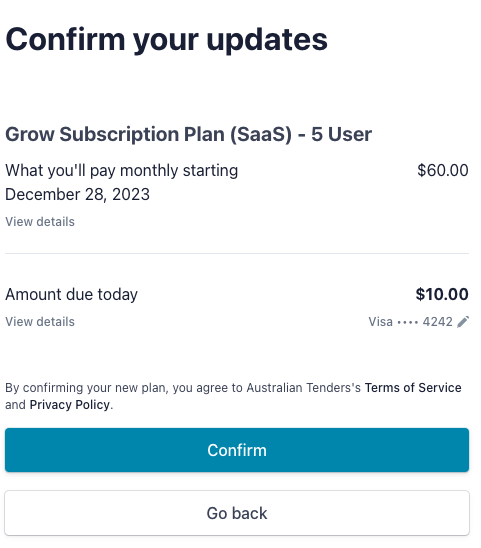 NOTE: If you upgraded to one of our sub-user accounts and you are not sure how to set up sub-users, this document gives step-by-step instructions
Need a little help?
Just email us at support@australiantenders.com.au or call our friendly Australian support team on 1800 934 117.