Set up multiple tender alerts using either Keyword or Category based searches to ensure you get every tender suited to you.
Tender Alerts are delivered to your inbox daily to keep you updated on new, awarded and future tenders. See also How to Set Up Tender Alerts.
Hints to Make the Most of Tender Alerts
Keep your category-based alerts separate from your keyword-based alerts.
Create a new Tender Alert for each keyword to avoid inadvertently narrowing your keyword alert too much.
Alerts using Categories and sub-categories can be separated into different alerts or bunched together.
Sub-user accounts can have different Tender Alerts to the Primary Account Holder.
The title of your tender alert has no impact on the search, it's just a title for your own reference, so you could call it "Rob's design alerts in Sydney" if you like.
Our support team are happy to set them up for you: just email your company details to support@australiantenders.com.au.
Tender Alerts are sent out once a day. Only those published that day are sent, so no alert means no new tenders today.

What Alerts should you have?
New current and future tenders in your area and industry
Awarded contracts in your industry
What Tender Alerts Look Like
The alert is an email not unlike the picture below:
From the email you can click on title of the tender and it will open it within the system so you do not have to search for it.
You can check your current tender alerts to see what you're already getting.
To see all the tenders available in your tender alerts:
Choose Tender Alerts and view your alerts
Choose Preview Search to see all tenders in that category/keyword. If you are a new subscriber, you need to do this in order to see which tenders are currently available, as we send only newly published tenders each day.
Create new Alerts using categories (preferred) or keywords (for obscure searches)
Add Category Alerts
Name your alert (eg Landscape Architecture main alert)
Do NOT use any keywords
Choose your categories and/or sub-categories from the drop-down box (eg Architecture & Urban Design > Landscape Architecture)
Choose your region (eg NSW )
Save
Using Keyword Alerts
This filters out everything that does not contain the keyword/s you choose.
Leave the 'Category' blank, or choose a category that you know covers all of your industry (eg Civil Works)
Enter keyword (eg landscape)
One keyword per alert works most effectively
Choose your region (eg WA > Perth)
Save
If you would like the support staff at Australian Tenders to create your alerts for you, just call or email. We're very good at the Tender Alert set up!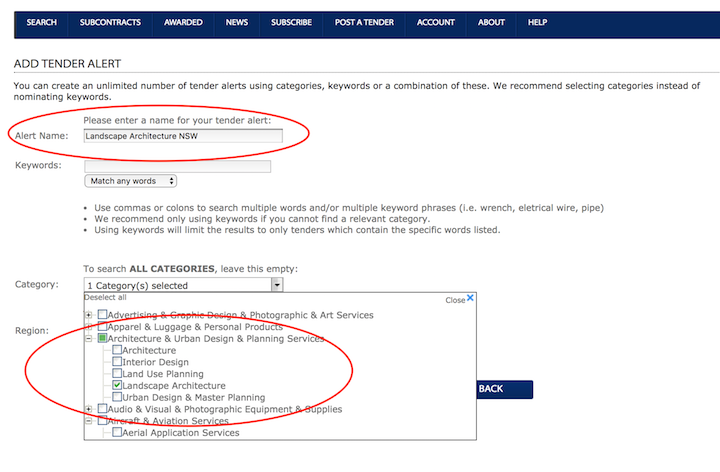 Choose your region
Choose your whole state, selected states and regions or leave blank to search Australia-wide & New Zealand.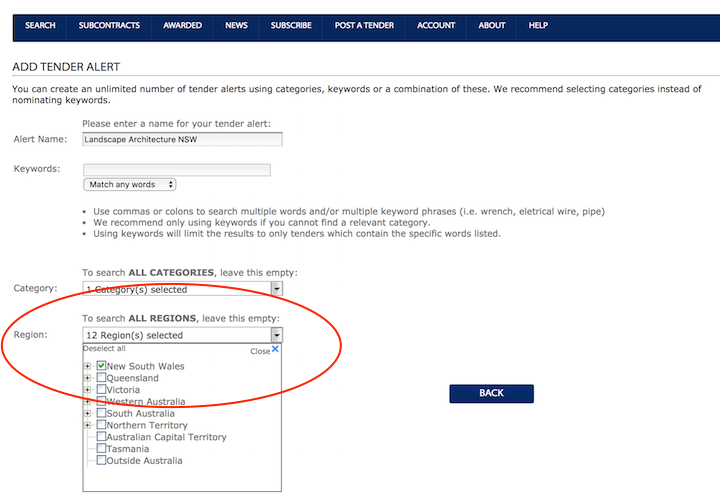 Do a Search Preview of Your New Tender Alerts
Preview your new Tender Alerts to see what is currently available as only new ones published from the next day onward will be sent to you. This will also alert you to Future Tenders.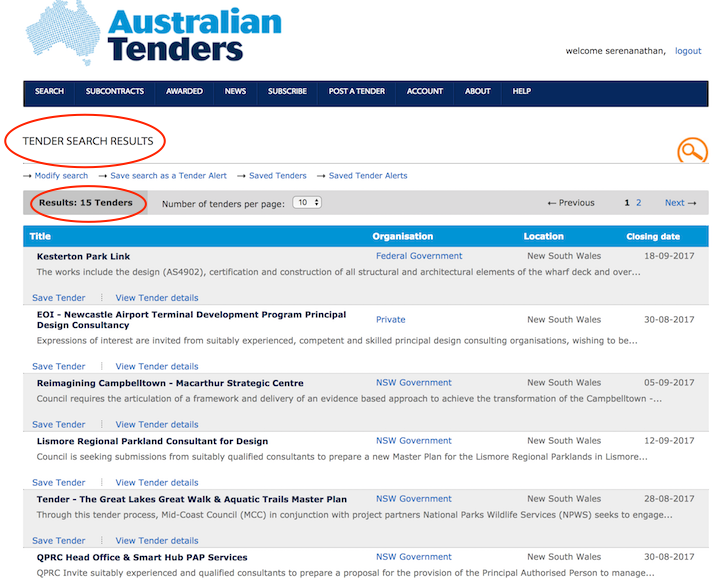 The Support Team - based in Perth - are here to help you and strive to respond to every inquiry within 24 hours, usually within a few hours at support@australiantenders.com.au.