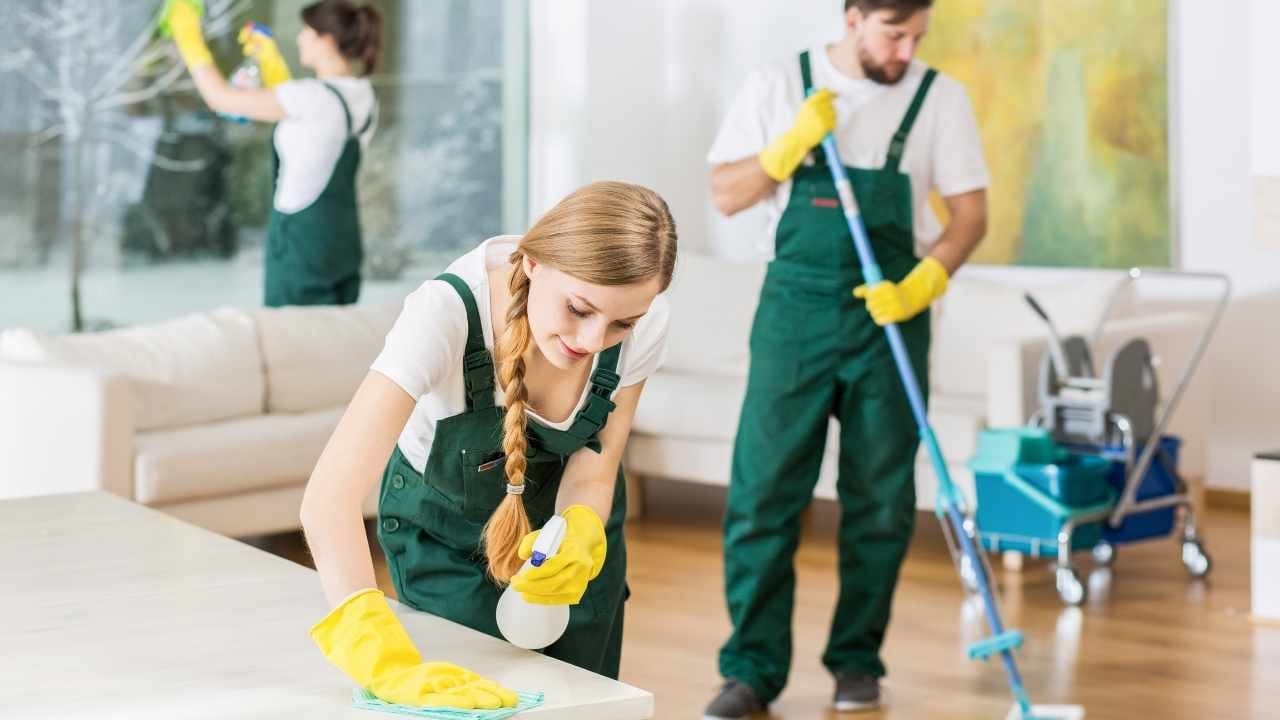 When writing your proposal or tender response for commercial cleaning tenders, it's important that you respond in a way that shows the client exactly how you'll deliver the services if you win the contract.Always remember to demonstrate your ability using your past experiences and outcomes from similar contracts, and likewise the benefits your proposed solution will provide to the client.
Be competitive in Pricing
Pricing is essential in this industry and you must be competitive: understand your rates and your profit margin. Work out exactly what the client is looking for and develop your pricing model accordingly. Even if you know it inside out, explain your pricing and value to the client. Check if the required pricing includes or excludes GST.
Compliance information for Health and Safety and COVID-19 must be included in your proposal. You need to mention your processes for managing these issues using Safe Method Work Statements (SWMS). It's easy to say you have implemented Health and Safety policies and procedures. However, it's important to provide evidence to support this, such as a copy of your Health and Safety Management system, or its Table of Contents.


Methodology
This is where you explain the process you will implement to meet the client's needs. Develop simple cleaning methodologies suited to each client's requirements. These should be customised for every client and be systematic in the way you would deliver the services.
Staff and Training
Talk about your cleaning employees, their training and induction programs, and how you ensure they will continue to deliver the required services on a regular basis to the highest standard. Outline the key personnel who will work on the contract (e.g. supervisors or team leaders) and highlight their experience and leadership skills.
Customer Service
Your Customer Service can be the tipping point as to whether the client loves your company (or not). Each team member representing your company has the chance every day to make a great impact on the client. Explain how you will achieve this, and describe your unique service offering – such as 24-hour availability; green cleaning; a business or Contract Manager to liaise directly with the client on outcomes and issues; inspections; or weekly reporting back to the client on deliverables and targets. You could also propose a Service Level Agreement to define and measure the level of service the client can expect.
Technology
Think about any IT systems that you might use for Health and Safety, monitoring, purchasing, communication, reporting or secure storage of documents and client information. When describing an overview of the system/s, make sure it is relevant to the contract and that you explain the benefits to the client.
iAuditor
is an inspection software app that is very popular with cleaning and trade companies as it provides options for photos and instant updates for clients.
As an employer, you have a responsibility to keep your employees, contractors and the general public safe while conducting cleaning services at client sites.
Understanding your Health and Safety obligations is the first step. Well-documented Health and Safety procedures, including Risk Management and Hazard Identification procedures, will show your commitment. It is essential for a cleaning company to have all proper policies, procedures and training in place before commencing contracts at client sites.

Why Risk Management and OHS Compliance is crucial in the Cleaning Industry
Every employee has a responsibility to be uncompromising regarding Health and Safety in the workplace, no matter where their position is in the company.
As an employer, if you don't already have a Health and Safety system in place, then now is the time! Your Health and Safety system is a method that manages the implementation of Health and Safety procedures in your business in a way that obeys all relevant legislation. It should include:
Policies to address the company's commitment to implementing H&S procedures in the workplace.
Documented accountabilities, roles, and responsibilities.
Training, supervision, and induction programs.
Documented Safe Work Method Statements (SWMS) and procedures, registers and records.
Risk Assessment addressing processes for identification of hazards and control methodologies.
Near miss, incident and accident recording, reporting, investigation and analysis.
Monitoring, measurement and evaluation of the H&S system.
No matter the size of your company or the products and services you offer, in today's marketplace, it's essential you have in place an effective Health and Safety Management System.


If you are in the cleaning industry, there comes a time when you will need to prepare either a business proposal or a tender response to secure that next important contract.

To prove your organisation's ability to service the contract, you need to include a section about Risk Management. Sometimes, it spans several sections under different headings, such as Compliance, Health and Safety, KPIs, Customer Service and Methodology.

If you've read this far, you'll know that Risk Management strategies are an essential inclusion, but you may not entirely understand their purpose. Many of my clients are cleaning companies, and I have helped them write winning tenders and proposals for over twenty years, so here's what you need to know.
What is Risk Management and why is it necessary?
It is normal and fair for clients to be cautious of new contracts and what will happen in case the new contractor doesn't perform. Risk Management is about proving to the client (and reassuring them) that you have the resources, facilities and infrastructure in place to service the requirements of the contract and that there are no risks associated with awarding the work to your company.
The most common approach for managing risk is mitigation, which involves:
1. minimising the chances that the risk will occur, and
2. developing plans to minimise the consequences if the undesirable situation does occur.
Risk Management is an integral part of all cleaning business initiatives and operations. It needs to be incorporated to ensure all hazards are identified, assessed, and controlled as necessary to ensure that all workers are safe when conducting cleaning activities.
Let's Understand the Terms
When we talk about Risk Management, it is important to understand the terminology to ensure you can work safely in the cleaning industry.
Hazard
A hazard is defined as any situation with the potential to cause injury or illness to people, danger to health and/or damage to property or the environment.
Common hazards in the cleaning industry include:
Chemicals
Heat Stress
Equipment
Slip and Fall
Manual Handling
Biological
Sharps
Electrical


Health and Safety Policies and Procedures
Every cleaning business (in fact, every business in general) needs to have effective Health and Safety Policies and Procedures in place to keep their employees safe. A good Health and Safety Policy should outline your company's commitment to Health and Safety, as well as the roles and responsibilities of all your employees.

For a cleaning company, the supporting procedures that you should have in place include (at a minimum):
Risk Management
Hazard Reporting
Incident Reporting
PPE
Infection and Waste Control
Manual Handling
Workplace Safety Inspection
Prevention of Falls
Contractor Safety
Emergency Preparation
Emergency Response
Workplace Signs
Safety Induction
Test and Tagging.
Hierarchy of Controls
Hierarchy of Controls helps you find a suitable control mechanism for minimising the risk for the identified hazard. The hierarchy is arranged from the most effective controls to the least effective. A usual hierarchy of controls would be:
1. Re-organise the task to eliminate the hazard
2. Substitute the hazard with something safer
3. Isolate the hazard from people
4. Use engineering controls (e.g. re-designing the equipment)
5. Use administrative controls (e.g. training, signage, job rotation)
6. Use Personal Protective Equipment (PPE).
All incidents, injuries and "near misses" in the workplace must be recorded. The report should be as detailed as possible with names, dates, locations, cause of the incident/accident and any other details available. The purpose of reporting incidents or accidents is to make any changes necessary in the work environment to ensure no one is harmed in the future. These reports should be used to highlight any dangerous work areas, habits or perhaps a gap in the Health and Safety policies and procedures or training conducted by your company.
Material Safety Data Sheet (MSDS)
It is the law that every chemical supplied and used in the workplace must have an MSDS. The MSDS shows you how to safely:
Store chemicals
Transport chemicals
Handle chemicals
Dispose of chemicals
Clean up spills
Apply first aid in an emergency
Identify the chemical
Contact the manufacturer.
Personal Protective Equipment (PPE)
All PPE should be correctly used, and training should be provided to all cleaning staff on the correct way to use the supplied PPE. PPE should be returned clean and ready to use or disposed of correctly. Items of PPE commonly used by cleaners include:
Gloves
Goggles
Aprons
Boots
Masks
Safety Shoes
Earmuffs.
Risk is a combination of consequences and their likelihood of the identified hazard.

Risk Assessment
Once a hazard has been identified, an assessment is required to determine the level of risk. The risk is calculated by determining consequences and their likelihood and other attributes of the hazard.

Risk Management Plan
Risk Management Plan will outline the potential risks for each project or contract. It's a good idea to categorise each risk with the probability of it occurring (e.g. low/medium/high). The Plan then details how you would approach the risks and the strategies you have in place to minimise or eliminate the risks.
This should also be given to ensure staff and sub-contractors understand the specifics relating to their work sites. These should cover all Health and Safety (including risks and hazards), environmental and quality issues.
Each employer has a responsibility to provide Health and Safety training to all new employees, and this must be specific to their duties.
Your induction training program should include (at a minimum):
Definitions of roles and responsibilities
Your company's Health and Safety and emergency arrangements
Job descriptions (including details of hazardous tasks that need to be performed)
Employee performance appraisals
Hazard identification
Risk assessments and risk control procedures
Operating instructions for the equipment and PPE they will be using
Details of your Health and Safety Management System and its associated policies and procedures
Contact me if you'd like further information about developing and documenting your own Risk Management Plan for your company.
Cleaning Methodologies
Every successful cleaning business needs to implement a sound Cleaning Methodology, which will save you time, money and ensure that your tasks are completed correctly the first time. Dawtek has compiled an effective method that can be implemented into any cleaning business. This simple 8-step process ensures that no cleaner cleans the same thing twice and that no task is missed.


Step #1 – Work from a Trolley
Providing your cleaning staff with a trolley that can hold all relevant products and tools will certainly save time and promote efficiency. Cleaning staff will have all their cleaning consumables close at hand and can easily see what needs replenishing. Use a trolley also promotes safer manual handling.

Step #2 – Start from the Top
Start cleaning from the top (high areas) first, then wipe benches and leave the floors till last. Using this process ensures all dust is collected and removed. Dust or loose debris will fall, eventually settling on the floor. Vacuuming the floors last will ensure that all dust is collected.

Step #3 – Cleaning Clockwise
Working in a circular clockwise movement ensures that no task or area is overlooked (or completed twice), eliminating the need to remember which areas have been cleaned.

Step #4 – Power Savings when Cleaning High-rise Buildings
All cleaners work in teams instead of on their own, which reduces the number of areas that require lighting at any one time, therefore guaranteeing clients savings and conserving energy. For example, in a high-rise building, three cleaners may clean one floor at a time over three hours instead of one cleaner on each floor for three hours.

Step #5 – Microfibre Cloth Cleaning
Microfibre cloths are environmentally friendly as they require no chemicals to get a great clean.

Step #6 – Vacuuming Correctly
Begin vacuuming with an empty bag. Use a long extension cord and vacuum in a circular motion. By using this method, cleaners can clean a greater area of floor space before the vacuum needs to be unplugged and re-positioned.

Step #7 – Mopping in a Figure 8 Motion
Mopping in a figure "8" ensures that the entire surface of the mop is used, promoting a better result. Additionally, it enables the mop to act as a broom, picking up any loose debris in the fibres.

Step #8 – Colour-coded Equipment
Using colour-coded cloths and equipment cuts infection and cross-contamination, e.g. Blue for General Cleaning, Green for Kitchens etc.


Developing a good working method is the key to a successful cleaning business. These tips are a guide to help you save time, money and ensure a complete clean at the standard expected from your clients.