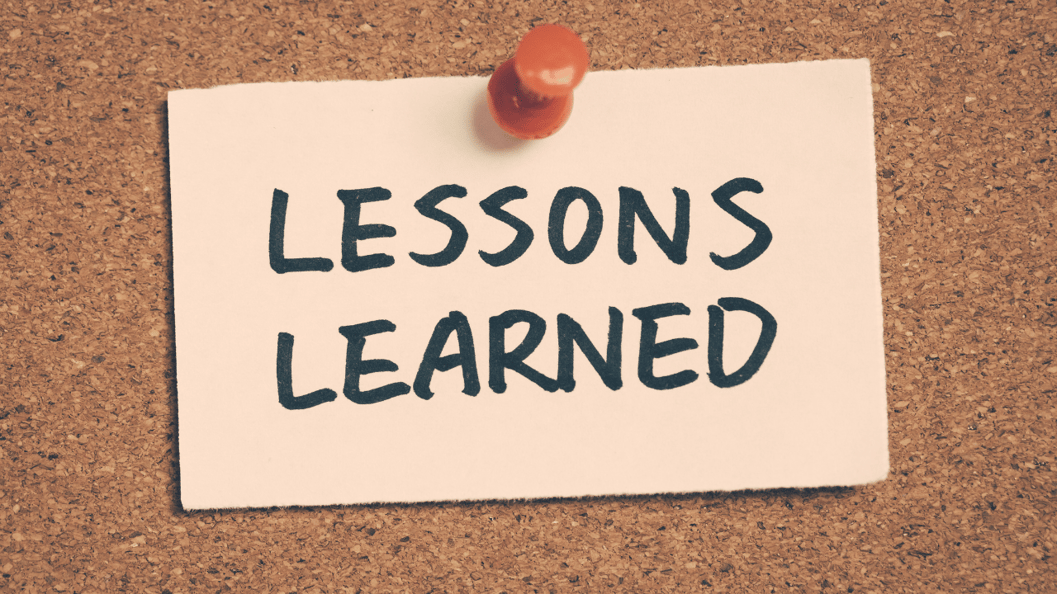 When it comes to bidding, only some people win. But winning and losing are a natural part of the tendering world. While securing a contract will make you jump for joy, losing a bid can stir up negative emotions. The key is to direct these emotions into well-informed and realistic actions. Why? Because that's how you try to win the next one! The tendering process doesn't simply end the moment you lose. Your last step along the journey of a lost bid should be undertaking a lessons learnt review – ultimately providing you with the insights to apply to your next bid.

We've done our homework on the critical steps to help you reflect and learn from a lost bid. Here's everything you need to know about the benefits of a lessons learnt review and how to strengthen your position for another significant opportunity.
What is a lessons learnt review?
The purpose of a lessons learnt review is to document learnings at the end of a project and use the knowledge gained to effectively build on the experience. These lessons help bidding teams reflect on the positive and negative experiences throughout the process, allowing your team to capitalise on what went well and what could have been better. As collaborative feedback sessions, lessons learnt reviews can offer incredible insight for business development, marketing, and execution strategies, thus ensuring a more robust readiness for future bids.
Why do we need a lessons learnt review after a lost bid?
Why your company won or lost a contract predicts future business success. Companies can address failures, poor business practices, and lacklustre performance with a lessons learnt review. Moving onto other prospects without considering the feedback from review discussions can set you up for failure; Hence why your review serves as a comprehensive win-loss analysis and can help you:

Improve your bidding process
Become more competitive
Provide direction for ongoing coaching
Create best practice guidelines for your company
Increase the effectiveness of your sales team
So how can you achieve the above benefits? Let's break down some clear and simple strategies for an insightful and results-driven lessons learnt review.
Request feedback from the Buyer
Despite the outcome of the bid, it's best practice to thank the Buyer for the opportunity to participate. There's also no harm in adding a polite request for feedback! Time is of the essence, and procurement teams often have their hands full preparing for their next bid. Let your client know exactly why you're looking for feedback and why it matters for your company's growth. Ask if you can have a face-to-face session!

Prepare a concise summary of the questions you want to ask, saving time for both parties and ensuring the time is used to develop pertinent and valuable answers.
What kind of questions should you ask?


Your goal for this feedback should be to ask open-ended questions, as your client's response may provide much deeper insight into the solution, what they were looking for and how your proposal may have failed to address these criteria. This feedback is critical in gauging your client's priorities and highlighting instances where you may have put through statements that seemed too good to be true. Processing the client's feedback with your team in your lessons learnt review will ultimately improve the future bidding processes. Here are some examples of open-ended questions to ask during a lessons learnt review:
Can you highlight which part of our proposal did not align with your expectations or required solution?

What key aspects of our proposal could have been presented differently to improve our chances of winning?

What were our major strengths relative to other bidders?

How did we score compared to the most and least successful supplier?

Are there any specific requirements we could not sufficiently address in our response?
Using lessons learnt reviews to identify best practices

As you connect directly with the client, lessons learnt reviews give you a complete picture of your bidding process. Reviewing your bid submission through your client's eyes offers a clear understanding of what was required for the project. It's easy to fall into the trap of overselling your services or not presenting a complete solution. And that's exactly why such reviews help you shape best practice guidelines for your business. This enables your company to:
Enhance your marketability

Improve process visibility

Remove potential loopholes in bid management and response creation

Set a clear vision for future prospects


Create a pathway for upcoming lessons learnt reviews (yes, there will always be more.)
If you are new to tenders or need to brush up on your tendering knowledge, be sure to download our Introduction to Tendering eBook. The eBook highlights details on how to respond to tenders and more.