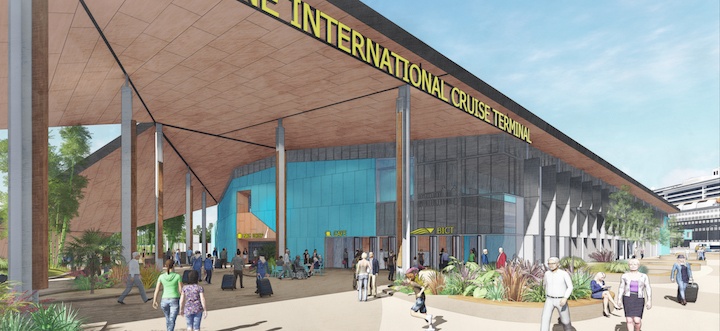 The Port of Brisbane (PBPL) is preparing to deliver south-east Queensland's first mega cruise ship terminal at Luggage Point - the Brisbane International Cruise Terminal.
The project team will host a non-mandatory Contractors and Consultants Briefing to provide an update on the project status, procurement strategy, key milestones and opportunities to be involved in the project.

The briefing is open to principal contractors and consultants with an interest in constructing the wharf and DD&C of the terminal and building.
Briefing Session Info:
Tuesday 14 November 2017 at 10.00am
Port of Brisbane Pty Ltd
Port Office, 3 Port Central Avenue
Port of Brisbane QLD 4178

Due to limited space, we ask that no more than two representatives from your organisation attend this briefing. Please liaise within your organisation to identify the most appropriate representatives before registering your attendance. RSVPs are essential and are required by 4pm, Friday 10 November 2017.
Background:
Announcing construction of the $158 million Brisbane International Cruise Terminal, Premier Annastacia Palaszczuk said a record 468 cruise ships visited Queensland last financial year according to the Cruise Lines International Association's latest report.
"This is almost double the number (238) of cruise ships to travel to Queensland in 2012-13," the Premier said. "In fact, this financial year (2017-18), Queensland is set to welcome a new record of 518 cruise ships to Queensland – the equivalent of 10 per week."
"Cruise tourism is a booming industry and supports 4,330 full time jobs across the state – trend data shows that the industry is only set to grow. Brisbane is now Australia's second biggest cruise port after Sydney and will continue to grow further as we enhance our infrastructure and experiences."
Queensland's regional ports are attracting more attention from the cruise industry, with the Whitsundays experiencing extraordinary growth in 2016–17, recording 62 cruise ship visits, 19 more ships than 2015–16.
The Brisbane International Cruise Terminal will be a $158 million, long-term, dedicated cruise ship facility on underutilised and undeveloped land at Luggage Point on the north side of the Brisbane River.
As cruising gains popularity, global trends show that cruise ships are getting larger and longer; and Brisbane provides the ideal starting point for short cruises to Northern Queensland and the South Pacific as well as being a popular tourist destination and jumping off point to the Gold and Sunshine Coasts. The non-exclusive, common use facility will cater to the new generation of mega-cruise ships longer than 270m, which are currently required to berth at temporary facilities at the grain berth on Fisherman Islands, which does not provide passenger and luggage handling or efficient transport logistics for passengers.
The cruise terminal will serve as an important piece of transport infrastructure for Queensland; maximising the state's share of the cruise ship market, increasing tourist numbers, creating jobs, and stimulating the economy.
The terminal building will be built to accommodate some of the world's most luxurious mega cruise ships and proposed design will create a pleasant, intuitive and memorable experience through holistic consideration of the passenger's journey from the 'kerb to cabin'.
The Port of Brisbane Pty Ltd (PBPL), is well placed to deliver the project, having experience in providing and maintaining port infrastructure and facilities for a highly diversified trade base, including for mega ships which currently berth at Fisherman Islands.
The Brisbane International Cruise Terminal will support an average of 245 jobs per annum over its two-year construction period, as well safeguarding the existing 1,250 jobs related to the cruise industry in Brisbane and adding 49 operational jobs on average each year over the next 20 years.
Cairns and Port Douglas
The Cairns region, which includes Trinity Wharf and Yorkeys Knob, welcomed 82 cruise ship visits in 2016–17, with 28 of those staying overnight, which significantly increases the economic benefit to the region.
When based in Cairns from September to November 2016, the Pacific Eden cruise ship contributed more than $6 million to the local economy.
It completed another home porting season from Cairns in October 2017.
Port Douglas welcomed 20 cruise ships and the northern destinations of Cooktown and Thursday Island had 4 and 8 ships respectively.
Townsville
Townsville received eight cruise ship visits for 2016–17, which is five more ships than 2015–16, and has more than 20 forward bookings for next year.
Whitsunday
The Whitsundays experienced extraordinary growth in 2016–17, recording 62 cruise ship visits, 19 more ships than 2015–16 and represents growth of more than 40 per cent.
Gladstone
In the second year of cruise ship visits, Gladstone welcomed seven cruise ships for 2016–17, which is three more ships than 2015–16.
Fraser Coast and Bundaberg
In 2016-17 Fraser Island welcomed 3 ship calls and 3,692 passengers, with forward bookings indicating growth again next year. Bundaberg will welcome the first cruise ship for many years with the arrival of a boutique-sized cruise ship in June 2018.


Port of Brisbane has provided more information about the Brisbane International Cruise Terminal project, via their website, click here to review.

See also: