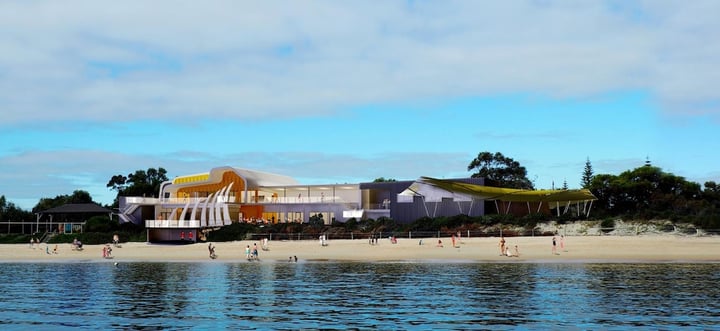 Bunbury-based Perkins Builders has won the Builders contract for the Bunbury's Dolphin Discovery Centre Redevelopment.
Bunbury's Dolphin Discovery Centre Redevelopment tender has been awarded to Bunbury-based Perkins Builders.

Perkins will complete the $8.3 million redevelopment project with works expected to begin in February and completed by November 2018.

The works will comprise new building and refurbishment of existing buildings and a new cafeteria, offices, aquariums and new interpretive centre. Bunbury MLA Don Punch said the project would deliver a new iconic building for Bunbury which would support jobs and tourism opportunities. Bunbury's MCG Architects has designed the new iconic building (artists' impression above image).

The plans of the Bunbury Dolphin Discover Centre redevelopment in Western Australia started in May 2017. Perkins had released subcontractors requests during the early tender stages, these subcontractors requests can be found on Australian Tenders.

The Dolphin Discovery Centre is home to a discovery pool, aquariums, 360 degree digital dolphinarium, scheduled guided site tour, 3D & 2D movies, cafe and souvenir shop. The centre has up to 115,000 visitors a year.

The state government's Royalties for Regions program supported the redevelopment of the Dolphin Discovery Centre. The Centre is also a part of the larger Transforming Bunbury's Waterfront project, which includes the makeover of the Koombana Bay foreshore. According to Regional Development Minister Alannah MacTiernan, the Dolphin Discover Centre redevelopment project was already delivering economic benefits through job creation and would continue benefiting the city into the future.
In September 2017, the Department of Finance released the first tender for the redevelopment project for the Dolphin Discovery Centre Redevelopment.

According to Regional Development Minister Terry Redman, the Dolphin Discovery Centre's bold new-look building will not only bring a visual 'wow' factor to one of the main approaches into the city centre, but also deliver a world-class experience for visitors.

The redevelopment will include a significantly expanded interpretative experience, with more aquarium space and interactive exhibits. He also highlighted that there will also be a cafe, function rooms and a bigger administration area, while a new souvenir and information space will offer a gateway to other tourism assets in the South West.
As stated above, this redevelopment project will open up various job opportunities for services in buildings refurbishment, cafeteria services and more.
To stay updated on Dolphin Discover Centre redevelopment and other projects and contracts, subscribe to Australian Tenders.

See Also: