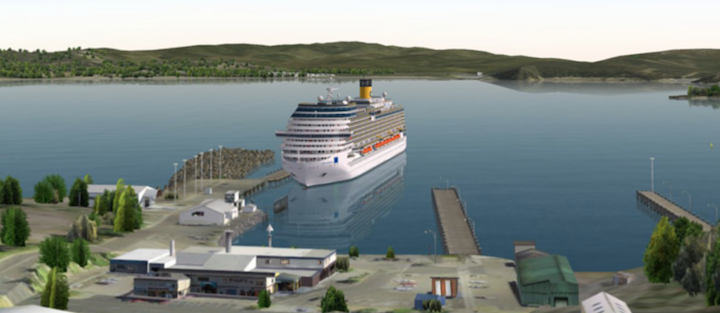 Expressions of Interest for work packages for the Eden Breakwater Wharf extension project have been released this week with lead contractor Waterway Constructions.
Located at Snug Cove, Port of Eden, NSW, on the NSW/Victorian border, the project is for a 110m extension of the existing Breakwater Wharf, deepening of the adjacent berth pocket and approach channel and disposal of the dredge material at an offshore disposal site.
This will enable cruise ships up to 325m in length to berth alongside the upgraded Breakwater Wharf so that passengers can embark/disembark via a gangway onto the wharf.
Works will be undertaken primarily from crane and supply barges, mostly sourced from Waterway Constructions existing fleet, in addition to onshore cranes, piling equipment, and ancillary construction plant and equipment.
Waterway Constructions has started early works. This includes preparing construction and environmental management plans required under the project's infrastructure approvals, and bringing plant and equipment to the worksite at the Wharf.
See the notification here in the following categories:
Building Trade Services : Fencing

Civil Construction Services : Civil & Earth Works (General), Marine Infrastructure

Electrical Systems & Lighting & Equipment & Services : Electrical Services

Waste Management

: Asbestos Removal

The scope of works awarded to Waterway Constructions includes:
Installation of Piles, Pre-cast concrete headstocks and pre-cast concrete deck planks for the main wharf structure.

Casting of a cast in-situ topping slab to the main wharf structure.

Installation of piles and fabricated dolphin modules for ship berthing / mooring.

Installation of fender systems and bollards for ship mooring / berthing.

Installation of piles and cast in-situ concrete structure for onshore bollards.

Installation of piping services to the wharf.

Installation of new fencing and modification of existing fencing to the wharf.

Removal and capping of existing pipework in the wharf, including the removal of asbestos containing material.

Installation of new distribution board and electrical services to the wharf.
The on and off site works are expected to begin in March 2018 and take around 12 months. Any future tender notifications will be seen here on Australian Tenders.
Photo: Artist impression: 306m Cruise Ship docked at the Breakwater Wharf Extension
See the latest update video:
See Also: