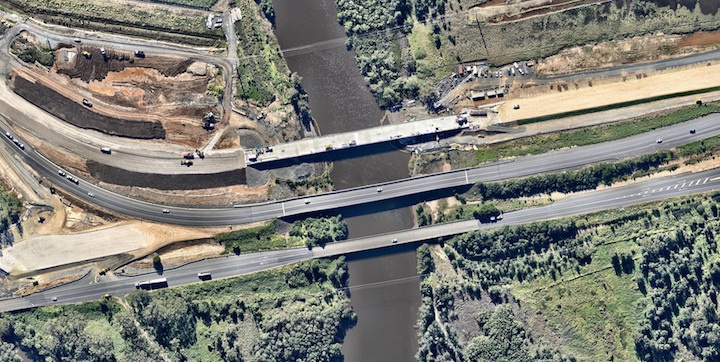 Registrations of interest (ROI) are now open for organisations hoping to compete for shortlisting to tender for the proposed contract for the construction of the Pacific Highway upgrade, Parsons Road to Ourimbah Street at Lisarow.
CIMIC Group company, CPB Contractors has been selected by Roads and Maritime Services to deliver main civil work for the Devils Pulpit to Richmond River section of the Woolgoolga and Ballina Pacific Highway upgrade in northern New South Wales.
The construct-only contract will generate revenue to CPB Contractors of approximately $365 million. The Roads and Maritime Services Department of the NSW Government are now calling for Registrations of Interest (ROI) from civil construction contractors. Other tender and contract notices from Roads and Maritime NSW can be found here at Australian Tenders.
T he project will deliver a 34 km Pacific Highway upgrade linking the Maclean to Devils Pulpit section to the south and the Richmond River to Ballina Bypass section in the north and forms part of the $44.36 billion Woolgoolga to Ballina upgrade – Australia's largest regional infrastructure project.
"Our strong track record of delivering new and improved major roads initiatives strongly positions CIMIC and CPB Contractors for projects such as significant upgrades of the Pacific Highway," CIMIC Chief Executive Officer Adolfo Valderas said.
CPB Contractors Managing Director Juan Santamaria said they would be both innovative technologies and proven solutions for the project would drive the procurement process.
"Our team is committed to using proven traffic management and innovative building methodologies to minimise disruption and maximise safety for road users during the major works," he said. "Through our highly experienced approach to project management and procurement, we'll deliver public value and increased opportunities for local workers and businesses."
"We look forward to working closely with other contractors, Roads and Maritime and its delivery partner Pacific Complete to build this section of the upgrade."
Work includes upgrading the Pacific Highway to two lanes in each direction, building seven new bridges, and associated road works consisting of ground treatments, earthworks and road surfacing.
Major works are expected to start in October 2017 and be completed by 2020 .
The Woolgoolga to Ballina project will duplicate 155 km of the Pacific Highway to a four-lane divided road. The project starts about 6km north of Woolgoolga (north of Coffs Harbour) and ends about 6km south of Ballina.
Read more news on infrastructure announced in the last NSW Budget at Australian Tenders News.
Summary ROI:
Upgrading 1.6 kilometres of the Pacific Highway to a four lane divided urban arterial road standard between Parsons Road and Ourimbah Street at Lisarow. The project includes the following features:

A new road bridge over the Main North Line that replaces the existing bridge

New signalised intersections at Railway Crescent and Tuggerah Street and an upgrade to the existing signalised intersection at The Ridgeway

Local road upgrade works in The Ridgeway, Tuggerah Street, MacDonalds Road, Railway Crescent, Dora Street and Lisarow Station access connecting to the new highway works.
ROI closes at exactly 2:30pm on Wednesday 8 November 2017. To receive notices of all new tenders relating to this project create a tender alert (or subscribe for $39/month if not a current subscriber).