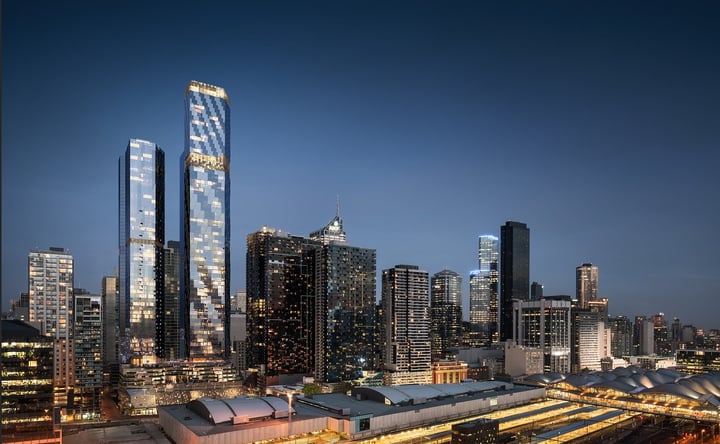 Probuild has won the tender for the Queen's Wharf Brisbane integrated resort development excavation works package.

Destination Brisbane Consortium has appointed
Probuild
as the contractor for the project's integrated resort development excavation works package: the largest excavation project to occur within Brisbane's CBD.
Demolition at the site is close to finishing, and more than 450,000 cubic metres of materials are set to be removed to allow for the construction of the precinct.

DBC program director Simon Crooks has said that Probuild was chosen through a very competitive tendering process and careful, exhaustive assessment.
"Probuild is a national company with experience in delivering some of the state's largest construction projects," he said.
"We have now worked with them first hand through the demolition work they are currently undertaking and have confidence in their ability to seamlessly execute on the excavation works package."
In late 2015 the Queensland Government awarded Destination Brisbane Consortium, The Star Entertainment Group and Chow Tai Fook Enterprises as the contractors to deliver the world class $3 billion Queen's Wharf Brisbane Integrated Resort leisure and entertainment precinct located in Brisbane's CBD.
In a media alert posted on November 2, Probuild have stated that the excavation works will take around 18 months beginning in 2018, during which time they will undertake the equivalent of 5 basement levels of excavation up to 26 metres deep. When the core of development is complete in 2022, the basement excavation will provide thousands of carparks with direct access to the precinct.
According to Queens Wharf Brisbane this new precinct has a vision to produce 2,000 jobs during the peak of its construction, 8,000 jobs once operational, will allow for 50 new bars, restaurants and cafes, with 12 football fields of public space and attract an additional 1.39 million visitors to Brisbane.

As development progresses, Queen's Wharf Brisbane will require a series of services from the Queensland construction industry such as:
Machine operators
General labourers
Service Trades
Steel Fixers
Form Workers
Finishing Trades
Consultants

These opportunities put to tender will be posted to Australian Tenders as soon as they're released. Ensure you subscribe to be notified of these jobs and future jobs just like this to benefit you and your business.

Holding one of the largest numbers of culturally significant heritage buildings and places in Australia, this project is set to revitalise these neglected areas through restoration and repurposing. 9 heritage buildings and 2 heritage parks will be incorporated into the final design of the Queen's Wharf Brisbane combined with state-of-the-art contemporary architecture.
Some other features of the precinct include:
100-metre-high sky deck
A new pedestrian bridge
2,000 residential apartments
1,000 premium hotel rooms
1,000 seat ballroom
The precinct is expected to take approximately 7 years to complete, however the core of the development is expected to open in 2022.

Queen's Wharf Brisbane is encouraging Queensland individual and businesses to learn more about the precinct to get involved in potential business opportunities. To stay updated on future tenders on this project, as well as many more alike, to be notified of opportunities as soon as they're released.

Australian Tenders provide list of opportunities, such as excavation works tenders, under the Civil Construction Category. View current list of tenders for excavation here.

See also: