The Queensland Government has invited advertising and media agencies within to tender for its $70 million master media advertising placements contract.
The Department of the Premier and Cabinet (DPC) is the lead agency for the management of master media advertising services for the Queensland Government. The tender was issued by the Department of the Premier and Cabinet and can be viewed here.
Reports and tender document have highlighted that the annual billings are usually between $60 million to $70 million each year, making it one of the biggest media reviews of 2018. The contract, which has been held by MediaCom for several years, is likely to interest major media agency groups. In 2017, MediaCom won the Victorian Government master media account while a group of agencies won parts of NSW.
QLD is the third-largest state government account in Australia behind NSW and VIC, and one of the largest media accounts in the sunshine state.
The tender indicative timetable is below. The tender is open till 22nd June, set to be awarded in August or September and project is estimated to start on 1st October.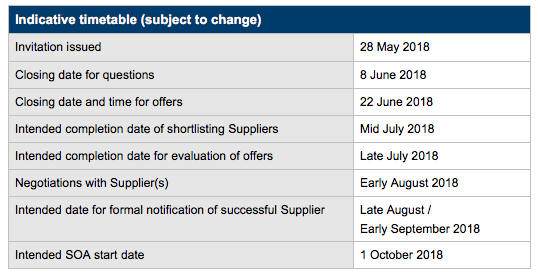 (Image source: Invitation to Offer (ITO) - Invitation title: Master media advertising placement services Standing Offer Arrangement (SOA))


As per the scope of the tender, there are currently separate arrangements for campaign and non-campaign advertising. The objective of the Invitation to Offer (ITO) is to establish a singular Standing Offer Arrangement (SOA) for the provision of both campaign and non-campaign master media advertising placement services. DPC is seeking a suitably experienced media agency to provide quality and cost-effective placement, planning and media strategy services to customers accessing the arrangement.

For advertising and media agencies wondering about what a major media tender entails, the following details in the scope of works will give you an idea about the requirements and obligations for media service tender:

The scope of work includes:
media placement
rate negotiations
planning and strategy
media production and despatch
campaign evaluation and additional ancillary services as needed.
The successful agency will be reviewed on its ability to provide the above, as well as proving local benefits and government priorities, staffing and customer services, how it handles the transition process, transparency, brand safety and the provision of education, training and research.

Specific examples of how they would deliver these services are also required by the agencies. On transparency, for example, agencies must 'outline their approach and systems in maintaining transparency across all media transactions, particularly in regard to pricing transparency and ensuring ongoing access for customers to competitive pricing'. Agencies must also 'detail how your organisation ensures advertising fee transparency, including advertising fee breakdown between agency and third parties involved'. The invitation to offer may not focus on the price for the winning bid, however it will be a consideration, alongside 'value adds and bonus activity' that 'enhance and optimise campaign development and delivery'.

A new requirement listed in the standing offer arrangement document is a supplier's parent company guarantee to the government, which includes a performance guarantee and indemnity as security to meet 'performance obligations'. There is also a security provision to protect media owners. For further information on this tender, check out it on Australian Tenders.

See also: