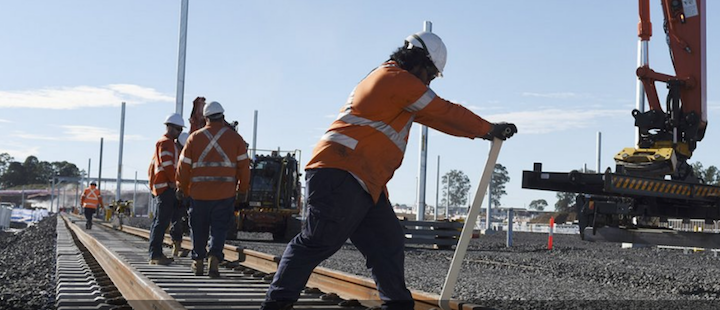 Expressions of Interest are now being sought by Transport NSW for a Line-Wide Contractor for Sydney Metro.
Transport for NSW (TfNSW) released the tender for those interested in designing, constructing, testing and commissioning the line-wide rail systems (LW Works) to register their interest.
Sydney Metro is Australia's biggest public transport project. A new standalone railway, this 21st century network will deliver 31 metro stations and 66 kilometres of new metro rail for Australia's biggest city - revolutionising the way Sydney travels. Services start in 2019 using Sydney's new generation of fully-automated metro trains.
Sydney Metro's two projects:
Sydney Metro Northwest - Formerly the 36km North West Rail Link. This $8.3 billion project is now under construction and will open in the first half of 2019 with a metro train every four minutes in the peak. Tunnelling has finished and construction is progressing rapidly.

Sydney Metro City & Southwest - A new 30km metro line extending metro rail from the end of Sydney Metro Northwest at Chatswood under Sydney Harbour, through new CBD stations and southwest to Bankstown. It is due to open in 2024 with the capacity to run a metro train every two minutes each way through the centre of Sydney.
The LW Works comprises new fixed infrastructure, assets and systems; and modifications to existing infrastructure and services. The LW Contract will include the following elements:
a) Systems integration;
b) Track and tunnel works;
c) Tunnel ventilation systems;
d) High voltage and traction power supply;
e) Sydney Metro Trains Facility (Cudgegong) expansion works;
f) Sydney Metro Trains Facility (Sydenham) works;
g) Line-wide southwest corridor conversion works; and
h) Testing and commissioning.
Entities may register interest as individual entities or as consortia; however, fully formed consortium structures are not required to be registered at this stage. The EOI closes 11 November.
See also: