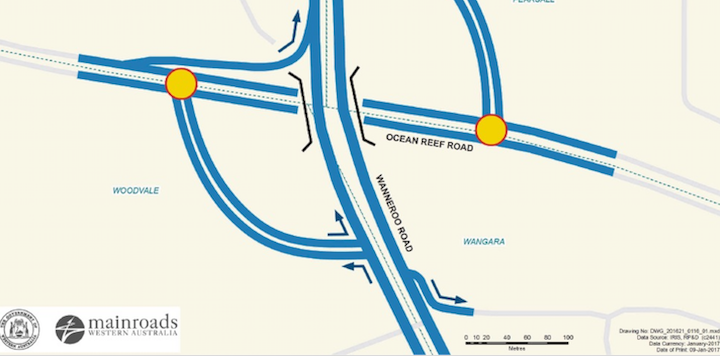 Tenders are being released for the Wanneroo Rd Joondalup Drive Interchange which will include a grade separation with Joondalup Drive going over Wanneroo Road with two lanes in each direction.
As part of a $4 billion road infrastructure boost in Western Australia by Premier Mark McGowan's government, tenders have been advertised for the $50 million upgrade of the intersection. The project is designed to significantly reduce delays and improve safety at what is currently the sixth most congested intersection in the Perth metropolitan area.
This development work will enable Main Roads to undertake the procurement process and award a contract for design and construction in mid-2018.
A tender for Bridge Construction and Maintenance, Retaining Wall Construction, Road and Streetscape Construction and Maintenance was published yesterday on Australian Tenders.The project includes the design and construction of major bridge structures to carry Joondalup Drive over Wanneroo Road with a roundabout and slip lanes to be constructed below. The project also includes significant service relocations (including impacts on 132kVA transmission lines), noise wall design and construction along the western and southern boundary of the suburb of Carramar (eastern side) and retaining wall design and construction.
Project summary
Works will include:
Grade separation of Joondalup Drive going over Wanneroo Road with two lanes in each direction.

Modifications to intersections with local roads (Drovers Place and St Stephen Crescent).

A roundabout with two or three lanes with left-turn slip lanes for each traffic movement.

Retaining walls and noise walls on intersection quadrants.

Road furniture, fencing, drainage, landscaping and street lighting.

Shared paths and bus facilities.

Driveways and accommodation works.
Details:
Pre-qualification Required: Roadworks R4 or higher, Bridgeworks B3 or higher and a financial rating of at least F50.
Briefing Session: A non-mandatory briefing will be held on 4 October 2017 commencing at 10 am at Don Aitken Centre.
RSVP by 3rd October 2017 to Robyn Dickson on 9323 6349 or robyn.dickson@mainroads.wa.gov.au.