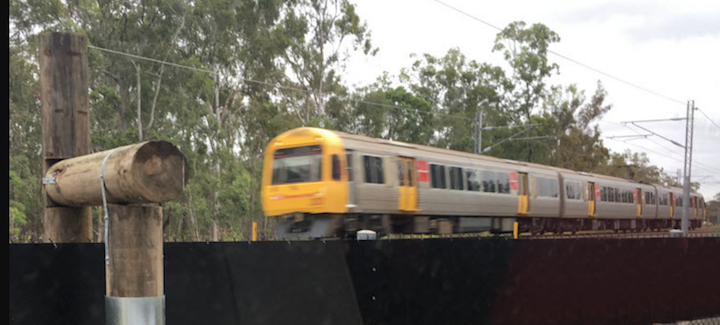 Queensland's ageing rail bridges are being upgraded with a $28 million injection from the state government on the West Moreton rail network between Ipswich and Chinchilla.
Transport and Main Roads Minister Mark Bailey said the works would support nearly 200 jobs, with local company Moggill Construction awarded the contract.
The upgrades were put out to tender last year and will focus on improving the safety and reliability of the bridges. More about the West Moreton system can be found at Queensland Rail.
"Each year approximately 7,000 passenger and freight trains travel on this line, supporting the local tourism economy, agriculture and resource sectors," Mr Bailey said.
"The West Moreton system is a critical link for rail services from Brisbane to the west and south west communities of the state and is a major artery to the Darling Downs, which is predominantly used to transport thermal coal and grains.
"This project will kick off in March and will include replacing 18 timber rail bridges with stronger, more durable steel girders, to improve the reliability of the West Moreton rail line and also significantly reduce the time spent on maintenance."
The West Moreton system runs over 314 kms between Rosewood and Miles. The West Moreton system adjoins south-east Queensland in the east at Rosewood and the far-west section of the Western system in the west at Miles. Various branch lines of the Western system also run off the West Moreton system.
Member for Ipswich West Jim Madden said the upgrade works reinforce the government's commitment to modernising and investing in the regional rail network across the state.
"The West Moreton line is also home to the iconic Westlander, which journeys through some of the state's most picturesque outback regions. We're proud to continually support tourism in the West Moreton region, and to help in keeping these communities connected," Mr Madden said, adding that the government is committed to using local suppliers."
Local civil construction company, Moggill Construction will source building material and plant hire from local suppliers wherever possible. The Queensland Government remains committed to utilising local suppliers and local commercial operators for tender and contracts wherever possible within the regions.
The bridge upgrade works are expected to be completed by 2020 and will significantly reduce time and costs spent on maintenance and inspections. Job opportunities will be available to view at Australian Tenders as the work packages are released.
The new project follows the upgrade of five timber rail bridges on the Ipswich/Rosewood line at Karrabin, Walloon, Rosewood, Sadliers Crossing and Thagoona which were replaced with more durable, concrete structures between 2015-2016 to improve the reliability and safety of services on this rail corridor.
Approximate locations of bridges set for upgrades include:
5km NE of Dalby
9km NW of Toowoomba
28km SE of Chinchilla (7km NW of Warra)
10km SE of Laidley
2km W of Forest Hill
4km SE of Helidon
1km SE of Helidon (three bridges)
2km SE of Murphys Creek
3.5km E of Murphys Creek
1.5km SW of Rosewood
5km SW of Rosewood
Grandchester
Laidley
1km SE of Grandchester
1.5km NW of Laidley
9.5km SE of Warra.
Moggill Constructions is a Brisbane-based company who have been deliving civil construction services across Queensland since 1973.
See also: