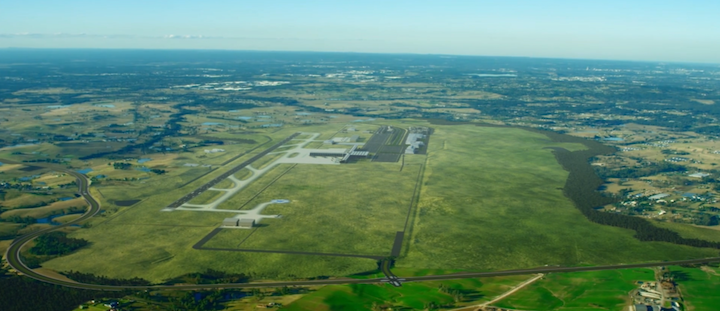 Western Sydney Airport's WSA Co is moving forward with the release a Request for Tender for Land Survey Services for the $5.3 billion project at Badgerys Creek.
The land survey services are required to support the preparation by WSA Co of a reference design for the Stage 1 airport development and the tender closes on 27 November.
Detailed land surveys of the airport site including cadastral survey; topographic survey; utilities survey, including underground and overhead services and utilities; and orthorectified aerial photography will be the key componant of the contract
WSA Co announced this week that an agreement has been signed by the Commonwealth, WSA Co, and TransGrid to enable the relocation of a high-voltage power line that crosses the site.
TransGrid, the manager and operator of the NSW transmission network, will relocate the existing 3.2 kilometre section of aboveground high-voltage transmission line to an underground cable route wholly located within the airport site. The line is a key part of the transmission network in NSW, connecting Canberra and the Sydney metropolitan area.
The agreement marks a critical and necessary step in preparing the 1780 hectare site for construction and is the culmination of three years of planning, which includes the completion of feasibility and scoping studies and an Environmental Assessment to comply with the requirements of the Airport Plan.

Notification of the tender for land surveys can be seen at Australian Tenders and details of the project are available at the WSA Co website.

Background:
Converting the undulating site into a 21st century airport is a substantial undertaking with 22 million cubic metres of earth to be moved, one million square metres of airside pavements and 30 kilometres of landside roads to be constructed and the delivery of an iconic terminal that reflects the culture and aspirations of the Western Sydney community.

The company has carefully considered the best way to deliver the project within the $5.3 billion budget set by the Government and ensure the airport will be ready to commence operations in 2026.

There will be three primary packages of work that constitute the Main Airport Works program.
The first package will cover all Stage 1 earthworks, drainage and utilities, together with airside pavements. An Expression of Interest for this package will be released to market in early February 2018, with a view to contracting a preferred tenderer in the first quarter of 2019 and for works to commence early in the second half of 2019.
The second package will be the terminal building and associated airside and landside interface works with the third package focussed on the landside roads, carparks and associated works. WSA Co intends to commence procurement of these works after awarding the first package.
A number of smaller specialist packages, including IT, security and baggage handling systems will be put out for tender separately and integrate with the main works.
Previous Western Sydney Airport Project Tenders is also presented on Australian Tenders here.


"WSA Co is committed to delivering a world class airport and this decision is essential to achieving that objective by 2026. This strategy allows WSA Co to procure the best expertise that the private sector has to offer," said WSA Co Chair, Paul O'Sullivan.

WSA Co has already issued tenders to market for airport Enabling Works, which will commence on site in 2018.

WSA Co will provide more information on its procurement approach in the coming days and brief the construction market in further detail in early December.

See also: