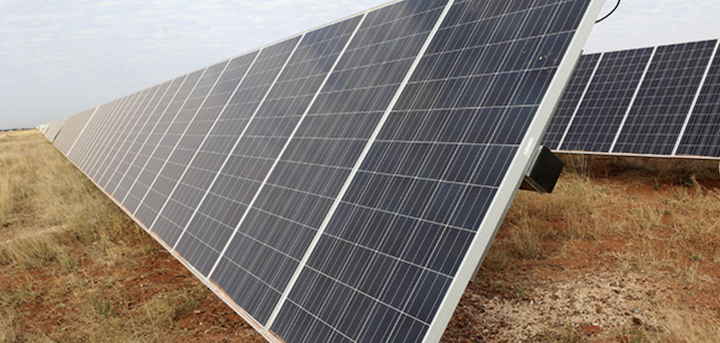 Currently in the pre-construction phase and worth $50 million, the Kerang Solar Farm will be constructed on the outskirts of the town of Kerang in Victoria's north and is anticipated to bring significant economic activity and benefits to the Gannawarra region.
The solar farm project is being managed by Acciona Energy Australia Global Pty Ltd (AEAG), a subsidiary of Acciona Energy International (AEI) is an organisation which develops, builds, operates and maintains renewable energy assets.
Tenders
have been released for a variety of works as the project moves forward. It is one of two Victorian solar farms currently heading towards production with the state powering ahead with solar energy projects in 2018 producing a

combined output of 320 megawatts

.
The site for the proposed solar farm is located on the southern outskirts of the Kerang township in northern Victoria and is approximately 100Ha in total area. The land is predominantly flat with marginal grading from the east to west to facilitate drainage from artificial channels towards the Loddon River. The site has historically been subject to agricultural land practices, including grazing and a former dairy operation.
The Kerang Solar Farm will be connected to the national electricity grid via the existing Kerang Terminal Station and will consist of 110,000 solar panels, mounting structures, underground and above ground cabling, fencing, landscaping access and site office and shed.
Construction is expected to begin later this year and take around nine months to complete. The 40MW capacity facility will generate power for 15,000 households annually.
The tenders now open include the following works:
Civil works – earth moving, fencing, roads and drainage, maintenance building, etc.
Inland transportation
Electrical – Substation, LV cables, inverters, transformers, trenching and cable laying.
Solar farm installation - erection and assembly of steel structures
Steel supply – supply and transformation
Temporary Construction Facilities - accommodation, security, waste and recycling, safety testing, fencing, plumbing, etc.
Acciona's Coleman Rail business has also been awarded the Southern Program Alliance – a level crossing removal project in Victoria that will help transform the way people live, work and travel around the south-eastern Melbourne suburbs surrounding the Frankston rail line. Read more about this $400 million project here and see the tender notification.


See also: