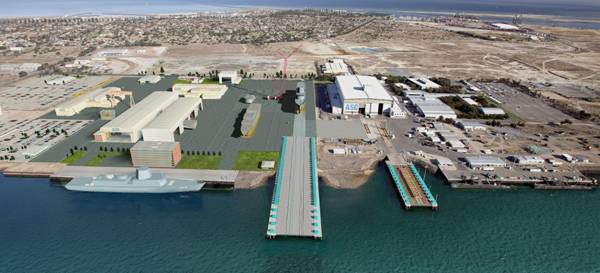 Lendlease has been selected as the managing contractor for the construction of the Osborne South Shipyard.
The Federal Government today announced the project is anticipated to create 600 jobs at its peak, a boost for the South Australian economy.
Following a competitive tender process, Lendlease, in partnership with Australian Naval Infrastructure Pty Ltd, will be responsible for undertaking this nationally significant work.
Mobilisation works will commence in October 2017, with the completion of the new shipbuilding infrastructure ready to support the commencement of Future Frigate construction at the site in 2020. The construction of the shipyard is a key enabler of the Government's continuous naval shipbuilding program.
The $535 million surface shipbuilding yard in Osborne, SA will be the site for the build of the nine Future Frigates under Project Sea 5000.
Minister for Defence Industry the Hon Christopher Pyne MP said that South Australians were now seeing the tangible benefits of the Turnbull Government's historic $90 billion naval shipbuilding program.
"For the first time in over a decade we are seeing jobs created at Osborne, with up to 600 construction related jobs to be created on the Osborne South Shipyard project," Minister Pyne said.
However Defence Connect today reported that the Australian Manufacturing Workers' Union (AMWU) was unimpressed with the news, and that the 'valley of death' has not been alleviated by the news. Defence Connect reported that the AMWU's National Secretary Assistant Glenn Thompson said "no consultation between the government and the union and the workforce in relation to the announcement that Minister Pyne made" took place and that no measures have been put in place to retain the workers who are set to lose their jobs in the coming weeks and months.
Minister for Finance Senator the Hon Mathias Cormann said that the Government's decisions to establish Australian Naval Infrastructure Pty Ltd and purchase land and facilities from the South Australian Government have enabled work to progress rapidly.
"Today's announcement is the latest step in the Government's plan to ensure that we develop world-leading shipbuilding facilities in South Australia that will enable our historic investments in naval shipbuilding to commence on schedule.
"Through Australian Naval Infrastructure Pty Ltd the Government is investing more than $500 million in naval infrastructure at Osborne that will support a sustainable, long-term naval shipbuilding industry in Australia."
View notification of current tenders by Lendlease at Australian Tenders. Current and future tenders in South Australia are also available to search using regional and tender filters.
Picture: Artist's impression of ASC's site at Osborne when current developments are completed from APH.