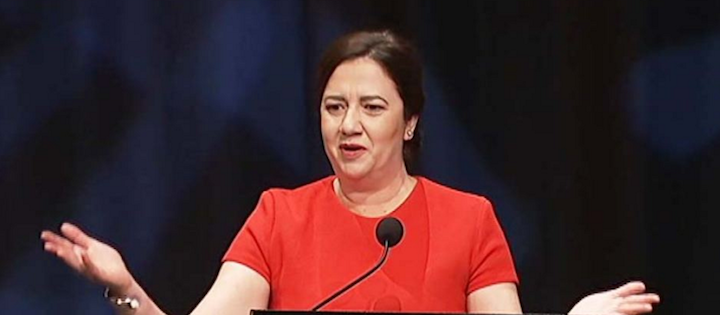 Premier Annastacia Palaszczuk has announced today that in an Australian first, Cabinet has agreed the State Government would no longer be constrained or bound by free trade agreements that have seen jobs go off-shore or interstate.
"We are going our own way,'" the Premier said. "We will ignore restrictions that go against our interests.
The Queensland Government spends $14 billion a year, buying supplies and services. An additional $4 billion is invested each year in building and maintaining the state's infrastructure – roads, schools and hospitals.
The Australia-New Zealand Government Procurement Agreement defines "local" as anywhere in Australia and New Zealand.
"Suggesting to a Queensland taxpayer that funding a job in Christchurch is the same as funding one in Cairns is patently ridiculous," the Premier said. "We won't compromise in putting jobs of Queenslanders front and centre. We know some Queenslanders are doing it tough, especially in the regions. That's why we need to keep looking for new ways to strengthen and grow Queensland jobs and our state's economy."
From 1 September 2017, the government's new procurement policy will define a "local supplier" as a business that maintains a workforce within a 125km radius of where the goods or workers are needed.
Local suppliers will receive a local weighting of up to 30% on any tender lodged for a significant procurement.
The policy will also sets out the following:
Require at least one local or regional supplier, and one other Queensland based business, to be invited to quote or tender for every procurement opportunity offered;
For significant infrastructure projects $100 million and above, require the use of local sub-contractors and manufacturers where the local capability and capacity exists;
Significant projects will be required, where possible, to expend 15% on apprenticeships – up from the current 10%;
Deliver a more visible pipeline of opportunities for every Queensland business;
Reduce complexity to assist Queensland industry prepare for government tenders, and provide resources to help them tender;
Exempt business from the pre-qualification system for building contracts and Information and Communication Technologies projects under $1 million;
Businesses tendering for government procurement contracts will need to have a permanent workforce in Queensland. They will need to offer fair wages, conditions and superannuation, and have good workplace health and safety records.
Small Business Minister Leeanne Enoch said the Government is committed to be an exemplary lead customer for innovation and to harness the innovative capacity of the state's small to medium enterprises (SME's).
"Not only will we provide better services for Queenslanders, but we can also help grow SME's and start-ups in this state," Ms Enoch said.
Australian Tenders publishes open, future and closed tenders in Queensland as well as news on the recipients of awarded tenders.
Photo from ABC News.