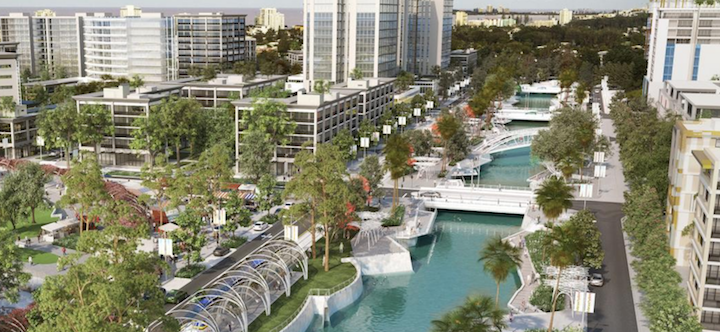 The Maroochydore City Centre (MCC) project, in Queensland's rapidly expanding south east corner, is seeking expressions of interest in the Information & Communication Technology sector.
Expressions of interest are now invited for the delivery of 'Australia's most connected city' Maroochydore City Centre Project.
Maroochydore is currently Australia's only greenfield Central Business District (CBD) development within an existing urban area, and will create a new 21st Century city centre in the heart of the Sunshine Coast capital, servicing a catchment population of more than a million people.
Plans for the new CBD include commercial, retail, city living, entertainment and lifestyle precincts, with approximately 40 per cent of the 53-hectare site to be parks, plazas and waterways. The MCC will be the largest CBD north of Brisbane and is a government gazetted Priority Development Area.
The project offers multiple investment and business development opportunities in a vibrant new city centre setting. In addition, with the Sunshine Coast Regional Council's recent moves to progress the planning for an international broadband sub-sea cable to directly connect Maroochydore, the Sunshine Coast and Queensland with North America and Asia, the MCC is uniquely posed to be at the heart of new investment and improved telecommunications infrastructure. Significant Smart City opportunities are available for telecommunications and technology companies and a range of business sectors.
This Expression of Interest Invitation process is intended to identify potential entities and consortia in the telecommunications and technology fields with the capacity to partner the delivery.
The closing date for submissions to this EOI Invitation is 5.00pm, Friday 23 February 2018. Additional project information is available here.
About the Project
The MCC project is to be delivered over the next 15-20 years, transforming Maroochydore into one of the most functional and commercially competitive regional cities in Australia. Development entitlements applying to the project site allow up to 150,000m2 of commercial floor space; 65,000m2 of retail floor space; and 2,000 apartments.
The project will deliver:
a city heart for Maroochydore and the Sunshine Coast;
significant Smart City demonstration and implementation opportunities;
improved technology infrastructure for business, city users and community;
prime commercial office space, facilitating new commercial investment and job creation;
improved access to the public transport system and the pedestrian/cycle network;
high quality city streets, parks, waterways and public realm;
fully approved and serviced land for a range of city centre uses;
CBD-style retail space;
dining and entertainment precincts;
cultural and civic precincts;
a premium hotel, with associated entertainment, business convention and exhibition facilities;
apartment living;
new road linkages to service the city centre and the wider Maroochydore.
Detailed precinct planning, design and construction are well advanced. Civil construction works for the core commercial precinct in the city centre commenced in early 2017 and construction of the first buildings is expected to commence in the second half of 2018. Total building construction value of these early-movers is currently around $400 million.
See also: