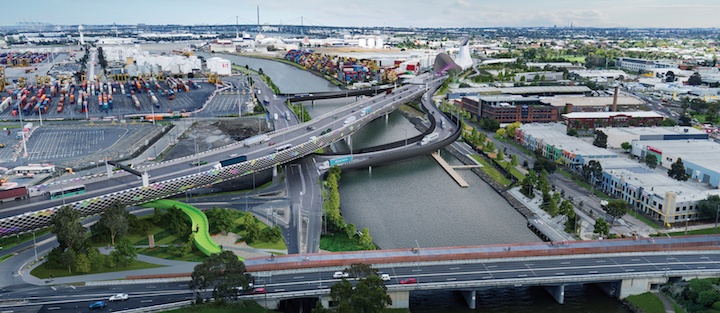 Construction of the West Gate Tunnel will begin next month, with contracts signed with John Holland and CPB Contractors.

Builders CPB Contractors and John Holland today began moving into a construction compound in Footscray, where they'll begin work on the West Gate Tunnel portal in January next year. Expressions of Interest have been called.

The six-lane tunnel will take thousands of trucks off residential streets in the inner west, slash congestion along the M1 corridor from Pakenham to Geelong and create thousands of Victorian jobs. The West Gate Tunnel project will stop 'rat runs' in the inner west and 24/7 truck bans will become law.

Minister for Planning Richard Wynne has signed off on the rigorous Environmental Effects Statement for the project.

As part of a Public Private Partnership with Transurban, the Victorian Government has negotiated a fairer deal for Victorians under the rigorous Market-led Proposals guideline – including making the toll recovery system fairer and removing existing clauses that compensate Transurban for road projects that divert traffic off its network.

Construction of the new road tunnel will be partly funded with a ten-year extension of the CityLink Concession deed. This partnership has been assessed as high value for taxpayers and for drivers, with tolls increasing at a lower rate than previously agreed to fund the CityLink-Tulla Widening Project.

Legislation to operate the new road tunnel, and amendments to the CityLink concession deed, will be introduced into Parliament before the road is complete in 2022.

While the Government fully expects Parliament to support a second river crossing and thousands of new jobs, the contract allows for the Government to pay for the road and its operation if Parliament opposes these changes.

The project will provide an estimated $11 billion boost to the Victorian economy, creating 6,000 new jobs, including 500 jobs for people entering the workforce, and up to 150 jobs for former auto workers.

The final design approved for construction will cost $6.7 billion, due to tunnels now twice as long as the original business case to improve traffic flow and protect homes, better city connections, additional noise walls, the creation of massive new open spaces and more cycling paths, and extending air quality monitoring for 10 years.

In addition to the business case released in 2015, the Government today released key documents, including a project summary, concession deed amendments, an exposure draft of the West Gate Tunnel Bill and the value for money assessment. The Government will also shortly release the contracts between Transurban and the State.

Early works will start in January, with the first of two massive tunnel boring machines to be ordered in the next few weeks. The project will be complete in 2022.

Expressions of Interest close on 31 March 2018.
To stay updated on this project and associated tenders and contracts, subscribe to Australian Tenders.

Key Features Include:
Widening the West Gate Freeway from 8 to 12 lanes between the M80 and Williamstown Road

A tunnel under Yarraville connecting to a bridge over the Maribynong River

An elevated road along Footscray Road with direct links to the Port of Melbourne, CityLink and the western edge of the CBD

The longest managed motorway network in Australia running from Geelong to Pakenham

New cycling and pedestrian paths including completion of the Federation Trail

See Also: